Mini Split Heating & Cooling Solutions
Allied Services, Inc. and its professional team of certified experts have been installing and repairing mini split heating and cooling units since 1955 in Dayton and nearby communities. Make your home or office perfectly comfortable, even in the most severe weather, with an indoor or outdoor mini split comfort zone solution. Contact us at (937) 269-5059 and schedule an appointment.
Request Service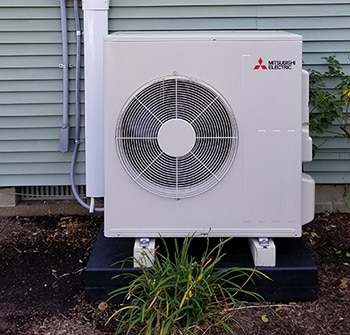 What is a Mini Split?
Mini splits are ductless heating and cooling solutions that provide the freedom and flexibility to control the indoor climate of an individual living space or entire residence, allowing for year-round comfort.
A mini split unit can be added with minimum inconvenience, as installation requires much less work than conventional HVAC systems. Whether your unit of choice is indoor or outdoor, there are several products to choose from, all of them being energy efficient, environmentally friendly and whisper-quiet.
Single-Zone & Multi-Zone Ductless Mini Split Solutions
Single-zone comfort solutions allow individual rooms of your home to be maintained according to desired comfort levels.
Multi-zone comfort solutions can connect up to eight individual room units to one single outdoor unit, allowing individual control of each room as a separate unit. Controlling the temperature of each room independently keeps you comfortable while not wasting unnecessary energy.
Request Service
Benefits of Zone Solution Technology
When choosing the next heating system or cooling system for your home, consider the many benefits provided by min split zone solutions.
Air Quality
Remove unhealthy pollutants using an advanced multi-stage filtration
Absorb smells and neutralize odors with platinum deodorizing filters
Save money and support the environment with washable filters
Efficiency
Conserve energy with Inverter-Compressor technology
Independently control each individual room
Most systems are Energy Star qualified
Hyper Heating
Maintain level of comfort while in the coldest of climates
Distribute the precise amount of hot air needed
Feel warm air immediately with Hot-Start Technology
Whisper Quiet
Ductless air conditioners operate softly with no noise
Insulated compressor compartments and vibration dampeners offer discreet operation
Whisper-quiet technology allows for quiet service
Smart Controls
Smartphone apps for wireless control
Connect up to 16 devices with RedLINK technology
Program and schedule personal heating and cooling settings
Constant Comfort
Automatic temperature adjustment using return air technology
3D i-See Sensor eliminates hot and cold spots
Inverter technology continuously keeps temperatures at consistent levels
Trusted Professionals
Allied Services is proud to offer value-focused service and installation of your next mini split system. We also provide competitive maintenance plans for all heating and cooling systems. We gladly serve the communities of Dayton, Centerville, Springboro, Beavercreek, and beyond. Contact us today at (937) 269-5059 to schedule an appointment.